Vrabel Young Men's Collaborative, VYMC, partnered with Jonathan's Path to host a Christmas Party for 25 very deserving teen boys in foster care.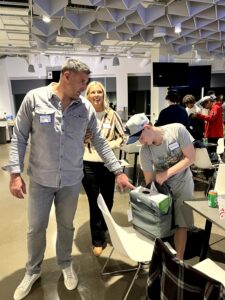 Jonathan's Path asked for nominations of teen boys in foster care that have shown exemplary behavior, good grades and overall positivity despite being in foster care. 
Each youth received a new Nike backpack and Nike duffle bag packed with lots of surprises such as gift cards, Xbox consoles, footballs, clothes, gift cards and so much more!
The VYMC team came together in a big way by fundraising and putting their heart into every detail of the event. Mike Vrabel, Tennessee Titans Head Coach and his wife, Jennifer Vrabel were present the entire evening meeting every teenager.
Mike Vrabel was proud of the VYMC team, "Our kids really ran with it. They brought their heart, souls and smiles to this event."
"This is a night these young men will never forget!" said Executive Director, Carrie DuRard.